The Unique Boutique
Vicky's Values
Vicky's Values is a gently used clothing and household item store. Vicky's Values accepts new and gently used clothing, accessories, household items and textiles during store hours. We regret we cannot accept furniture, large appliances or left over yard sale items. Vicky's Values is not only a store where the public can shop for quality affordable clothing and household items, but we also provide essential services for women in need. All donations are greatly appreciated and proceeds from the store support Women's Resources.
Donate
We accept all clothing and accessories (clothing, shoes, belts, purses, jewelry etc), household linens such as bedding, curtains, and towels; home décor items such as artwork and knick knacks; new gift items such as shampoos, bodywash, toothbrushes, and makeup. We also accept textiles for recycling.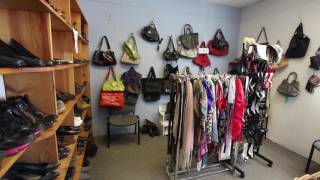 Vicky's Values is Readers' Choice best secondhand clothing store in the town of Lindsay. All donations received by Vicky's Values come from members of the community and are processed by our volunteers. The money generated through the sales support the vital services that we need to provide.
.
Store Certificate Program
Certificates for clothing and household items are provided to women in our services so they can shop for the items they need free of charge.
Housewares Program
Start up orders made up of bedding, towels, dishes, pots, pans and other household essentials are provided to women who are rebuilding their lives after abuse.
Food Cupboard
We provide emergency food orders to women in need. Women's Resources is a member of the Kawartha Lakes Food source.
Gift Program
Donations of spa products, new gift items and new toys are collected year round in order to provide gifts for women, teens and children for special occasions such as birthdays, Christmas, Mother's Day and more.
Recycle Program
We accept any fabric item that may have stains, tears or other issues that make it unsuitable for regular use ~ and process them. Some fabrics (mainly flannel and terrycloth) are turned into rags which we sell to local businesses. The remainder are sold to a fabric recycler who takes those items and turns them into useable fibres ~keeping as much as possible out of our landfills!