The Unique Boutique
Vicky's Values
Vicky's Values is proudly owned and operated by Women's Resources of Kawartha Lakes. For over 25 years, Vicky's has been providing clothing and household goods at affordable prices to the public, as well as raising much needed funds to support the programs and services offered by Women's Resources. Currently located at 50 Mary St W in Lindsay, Vicky's has grown from one small room to almost 6000 square feet of retail, sorting, storage, and program space. Not only does Vicky's operate a successful store, but we also provide essential items for women and children through our Housewares, Gift Room, Vicky's Certificates and Food Cupboard Programs. We couldn't do all that we have accomplished without the support of our amazing volunteer team, who are the cornerstone of our organization, as well as the support of our community and generous donors. For more information about Vicky's, our programs, volunteering, or donations, please browse our website, or contact us at 705-878-5938, Monday through Saturday from 10am to 4pm.
Donations
Donating to Vicky's Values not only helps us, but it helps the environment too! Through our store and our recycling partnership with Diabetes Canada, we are able to divert thousands of pounds of reusable products from the landfill every year. We gratefully accept donations of clothing and accessories (shoes, belts, purses, jewelry etc) for women, men & children, as well as household linens such as bedding, curtains, and towels; home décor items such as artwork and knick knacks; new personal care items such as shampoos, bodywash, and much more. Unfortunately we are not able to accept large items such as furniture, baby equipment, or large volumes of yardsale leftovers due to space constraints. Please contact us if you have any questions about donations at 705-878-5938.
Shop
Vicky's Values is voted Kawartha Lakes Reader's Choice Best Secondhand Store! Vicky's is open to the public for shopping Monday through Saturday from 10am to 4pm. We strive to offer clean, quality merchandise at prices that are affordable to everyone. Proceeds generated through sales at Vicky's go to support the vital services that Women's Resources provides to women and children right here in the City of Kawartha Lakes.
Volunteer
Vicky's Values is run by an active and dedicated team of over 80 volunteers. Our Volunteers are the cornerstone of our organization, and we couldn't do what we do without them! We are always looking for new volunteers at Vicky's Values & we have a variety of shifts available, Monday through Saturday. All our volunteers are provided with in-class and hands on training – so even if you have no retail experience, but you love to help people – we would love to have you join our team! For more information about volunteering, please contact us!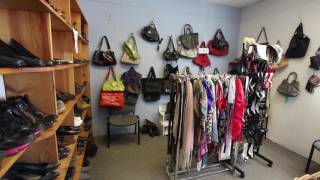 Check out our video for a virtual tour of Vicky's Values!
.
Learn About Our Vicky's Values Programs
Store Certificates
Women and children in our services receive gift certificates for Vicky's Values so they can shop for clothing and household items at no cost to them. Clothing and other essential items such as winter coats are also provided to women staying in our residential programs through Vicky's Values.
Housewares Program
Start up orders of bedding, towels, dishes, pots, pans and other household essentials are provided to women who are rebuilding their lives after abuse. These items are processed by our volunteers and kept especially for the women in our services, rather than placed in the store.
Food Cupboard
We provide emergency food orders to women in need through our Food Cupboard. Women's Resources is a member of the Kawartha Lakes Food source.
Gift Program
Donations of spa products, new gift items and new toys are collected year round in order to provide gifts for women, teens and children for special occasions such as birthdays, Christmas, Mother's Day and more.
Recycle Program
Through our long-term partnership with Diabetes Canada, we are able to recycle over 200,000 pounds of materials & household goods every year, keeping it out of the landfill, and also supporting Diabetes research at the same time! Its a win-win situation for everyone!
Vicky's Values Boutique
Bridal Fashions & Formal Wear
Vicky's Values Boutique is the place to shop for Weddings & Prom! We have a great selection of new and once-loved bridal gowns, prom dresses, and other formal attire in a variety of sizes and styles at affordable prices. Our Boutique is open for browsing during regular store hours, or you can call us at 705-878-5938 to book a private appointment. Donations of gently used and new dresses and suits in current styles are greatly appreciated. Check out our gallery below for some of our current gowns available – but don't worry if you don't see something that suits your fancy – we have new stock arriving weekly!